Introduction
We understand the complexity of code and policy as the most fundamental security problem shared by modern general-purpose operating systems. Because of high functional demands and dynamic workloads, however, this complexity cannot be avoided. But it can be organized. Genode is a novel OS architecture that is able to master complexity by applying a strict organizational structure to all software components including device drivers, system services, and applications. The Genode OS framework is an open-source tool kit for building highly secure component-based operating systems. It scales from embedded devices to dynamic general-purpose computing.
keywords

capability-based security, microkernel, principle of least authority, sandboxing, virtualization
The Book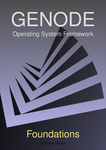 The book "Genode Foundations" describes the Genode OS framework in a holistic and comprehensive way. It equips the reader with a thorough understanding of the architecture, assists developers with the explanation of the development environment and system configuration, and provides a look under the hood of the framework. Furthermore, it contains the specification of the framework's programming interface. Download the book as PDF
The fourth stage of Sculpt OS introduces a new federated software provisioning model while giving the user full control over the component deployment via a novel graphical user interface.
Genodians.org is the new place to be for getting the latest news and stories around Genode. It is a federated blog by and for developers and users alike.
Version 19.02 enhances Sculpt OS with a federated software provisioning model, showcases the use of Java for an IoT network appliance and the creation of a component-based web service, improves the runtime support for Ada and SPARK, and adds board support for i.MX6 Quad Sabrelite and Nitrogen6 SoloX.
In 2019, we will focus on practical use cases, on interoperability, and on harmonizing Genode with existing applications and programming languages.
Genode 18.11 is focused on improving quality assurance on various fronts, including static code analysis, on-target test orchestration, and code-coverage measurements. Furthermore, it introduces support for Mirage-OS unikernels, a new health-monitoring mechanism, a Genode SDK, an SSH server, and a new window layouter.
To nurture a sustainable ecosystem around the Genode OS framework, we introduce a new approach for conducting dual-licensing businesses enabled by Genode.
More...