Introduction
We understand the complexity of code and policy as the most fundamental security problem shared by modern general-purpose operating systems. Because of high functional demands and dynamic workloads, however, this complexity cannot be avoided. But it can be organized. Genode is a novel OS architecture that is able to master complexity by applying a strict organizational structure to all software components including device drivers, system services, and applications. The Genode OS framework is an open-source tool kit for building highly secure component-based operating systems. It scales from embedded devices to dynamic general-purpose computing.
keywords

capability-based security, microkernel, principle of least authority, sandboxing, virtualization
The Book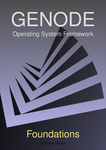 The book "Genode Foundations" describes the Genode OS framework in a holistic and comprehensive way. It equips the reader with a thorough understanding of the architecture, assists developers with the explanation of the development environment and system configuration, and provides a look under the hood of the framework. Furthermore, it contains the specification of the framework's programming interface. Download as PDF or Browse online...
Version 20.05 wraps up the consolidation of Noux with the C runtime, advances the device-driver infrastructure and virtualization support on ARM, reaches feature-completion of our block encryptor, and leverages seccomp for sandboxing components on top of Linux.
Version 20.02 of the Sculpt operating system revisits the administrative user interface for a more intuitive and logical user experience.
With version 20.02, Genode makes Sculpt OS fit for running on i.MX 64-bit ARM hardware, optimizes the performance throughout the entire software stack, and takes the next evolutionary step of the user-facing side of Sculpt OS.
In 2019, we will be concerned about dwarfing the barrier of entry into the Genode world.
Following this year's theme of "bridging worlds", Genode 19.11 adds the ability to use popular build tools like CMake for application development, introduces a new virtual-machine monitor for 64-bit ARM, and enhances POSIX compatibility. As another highlight, it features the first version of our custom block-device encrypter.
Genode 19.08 puts emphasis on practical concerns ranging from keyboard layouts, over system-time management, to remote system administration. It also continues our commitment to the 64-bit ARM i.MX8 SoC, comes with Qt5 version 5.13, and improves POSIX compatibility.
More...