Introduction
We understand the complexity of code and policy as the most fundamental security problem shared by modern general-purpose operating systems. Because of high functional demands and dynamic workloads, however, this complexity cannot be avoided. But it can be organized. Genode is a novel OS architecture that is able to master complexity by applying a strict organizational structure to all software components including device drivers, system services, and applications. The Genode OS framework is an open-source tool kit for building highly secure component-based operating systems. It scales from embedded devices to dynamic general-purpose computing.
keywords

capability-based security, microkernel, principle of least authority, sandboxing, virtualization
The Book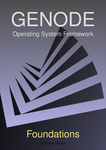 The book "Genode Foundations" describes the Genode OS framework in a holistic and comprehensive way. It equips the reader with a thorough understanding of the architecture, assists developers with the explanation of the development environment and system configuration, and provides a look under the hood of the framework. Furthermore, it contains the specification of the framework's programming interface. Download as PDF or Browse online...
We have released an updated Sculpt 21.03 image featuring several hardware-compatibility tweaks and performance improvements.
Version 21.03 of the Sculpt operating system makes the system resilient against classes of driver failures, adds configurable real-time priorities, and introduces interfaces for screen capturing and user-event injection.
The highlights of version 21.02 are the addition of VirtualBox 6, mobile-data connectivity via LTE, pluggable network drivers, initial support for the Pine-A64-LTS board, and revived work on RISC-V.
In 2021, we plan to bring Genode to the Pinephone, advance the framework's GPU support, and focus on development workflows.
Genode 20.11 brings Sculpt OS to 64-bit ARM hardware, introduces dynamic CPU-load balancing, and enables multicore virtualization on ARM. Driver-wise, the release improves audio on PC hardware, and adds VirtIO networking support.
Version 20.08 of the Sculpt operating system refines the user experience and becomes able to host the Chromium-based Falkon web browser.
More...